Dear Guest,
How do you measure your success?
We're almost halfway through the year - a great time to reflect on your progress and review, or establish, your goals.
Take a moment to remember why you got into business in the first place. WHY?
Are you clear about what's important to you? Do you have a plan to achieve it? Is it working? If not, what do you need to change? Plan. Do. Check. Act.
June is a big month for financials, of course. There's plenty of talk about a 'cost of living crisis' and, for business, cash flow is king! That's why our WNA theme for June is 'Monetise'. This is the month to look closely at your business and what you do. Consider what you currently do for free that customers may be willing to pay for. Can you turn your knowledge into a ebook, or a training course? Or your training course into a book? Explore the opportunities to create additional revenue.
Be wary of the term 'passive income', which seems to imply that you sit back, do nothing and watch the money tree grow. Even so-called passive income ventures require planning and nurturing.
Why not dip into our WNA Blogs for some inspiration and guidance to help you reset for the year.
Our latest guest blog by Helen Baker, tells you how to reduce your vehicle costs. Brownwyn Condon covers all you need to know about FBT in her guide for employers, and Tracy Kearey provides some excellent tips for new businesses starting out on the journey in her article "Small Business Stress to Success".
Keep reading below for updates on events, movie freebies, books and more!
With courage and hope,

Cheryl Gray
CEO
New Small Business Minister
Julie Collins is the new Small Business Minister in the Federal Government. Commentators have noted that packaging the Small Business portfolio with the Housing and Homelessness ministries suggests a new pathway for SME issues within the Cabinet, as the small business remit is traditionally tied to skills and employment. Others have interpreted it as an afterthought that downgrades small business.
WNA encourages our Members to reach out to your local MPs - new or re-elected - and relevant Federal Government Ministers to let them know who you are, what you do and issues of concern to you. You have a voice. Don't be afraid to use it. Link to the full list of Federal Ministers here.
WNA builds a solid foundation
Our NSW Ambassador Leanne Elich stole the show (and the microphone!) at yesterday's Sydney Build Women in Construction networking event.
It was a packed crowd that snapped up advance copies of the latest edition of Women's Network Magazine and were keen to hear more about WNA.
It was a pleasure to support this event and see so many women in construction gathered together.
Stay tuned for more constructive connections!
WNA mag rolls off the presses
After a minor delay, the Winter edition of Women's Network Magazine will be delivered to us today and we will be working overtime so financial members of WNA receive their FREE print copy.
Please let us know if your mailing address has changed during the past 12 months so we can ensure the postie gets it right!
Take a sneak peak at the magazine here.
If you're not a WNA Member, this is another reason why you should join before June 30 tax time!
Copies of the magazine can be purchased here.
We've already started planning the next edition, due out in November. Read how you can be part of the Summer edition and start planning your publicity and promotions.
Don't forget, WNA members can also contribute blogs to the WNA website. Find out more here.
News from Queensland

Brisbane Lord Mayor's Business Awards NOW OPEN

Nominations for the 2022 Lord Mayor's Business Awards are now open and winners will be announced on 21 October. Find out more and submit your nomination here.
Brisbane residents can access free events and other small business support through Brisbane City Council. Check the BCC Business Events Calendar.
Also take a look at the Brisbane Festival events program. Artistic Director Louise Bezzina has once again put together a diverse and impressive lineup for the September festival. One of the most popular events will be the Queen's Wharf Disco Wonderland, at the Riverstage on 24 September. Tickets go on sale to the public. WNA Members can jump in now and you can book early. Enter BFF22 into the Offer Code section to claim a discount!
Further afield, a shout-out to our friends at Queensland Rural, Regional and Remote Women's Network (QRRRWN) for delivering the RRR Women – Embracing Leadership Program. Funded through a Federal Government grant to support and strengthen RRR women's economic security, improve workforce participation and build leadership skills, this is a free bespoke development program for rural, regional and remote Queensland women. Applications for the next cohort close on 13 June. Find out more here.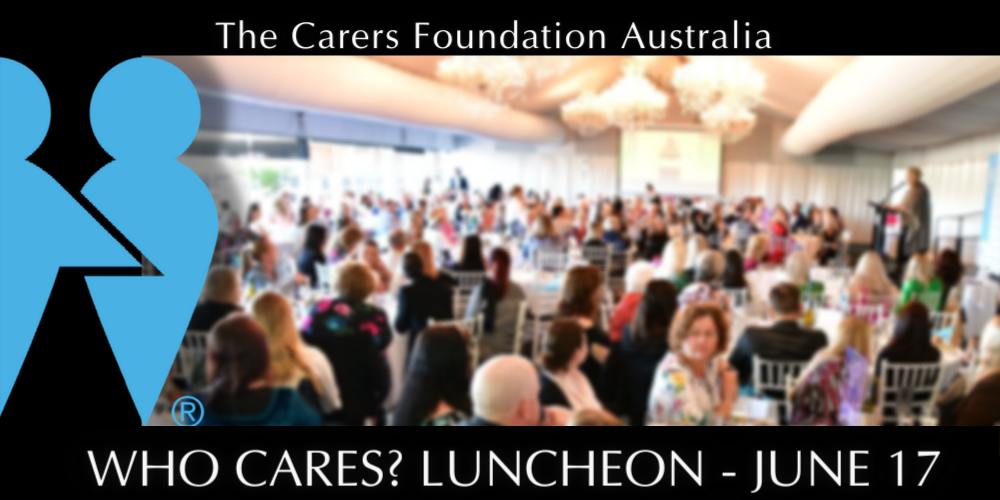 "Who Cares?" Luncheon, Friday 17 June

Brisbane women are showing their true colours by supporting the WHO CARES? Luncheon on 17 June.
What an incredible event this will be! Featuring the colourful fashions of Sarah Hutson's SFH Designs, entertainment by Cabaret Queen Naomi Price, and with insights from guest speakers Lady Mayoress Nina Schrinner, Libby Trickett OAM and Jackie Lewis. Join host, Triple M's Margaux Parker for this spectacular luncheon event to support unpaid family carers! And did we mention the incredible raffle prizes? All proceeds go to supporting the life-changing work of The Carers Foundation Australia. Book today to avoid disappointment.
When: Friday 17 June, 11:30am to 3:30pm
Where: Victoria Park Golf Complex, 309 Herston Road, Herston
Cost: $175 for two-course lunch and drinks
Event information and ticket bookings here. WNA will be there. Won't you join us?
Can't make it to the event? The WHO CARES? multi draw raffle with prizes worth up to $20,000 - including a $3,300 18kt white gold and diamond ring donated by Starfire Diamond Jewellery - will be drawn at the luncheon. You can purchase tickets online and be the draw to win!
Ravishing Fashionistas
Ravishing Fashionistas' Spring Fashion Show 2022 will be held in Brisbane on Saturday 6 August, celebrating local established and emerging talented designers whose creations emulate the values shared by Ravishing Fashionistas in empowering women, advocating positive body image.
Led by WNA Member and 'Mrs Universal Australia 2019', Upma Kite, Ravishing Fashionistas aims to break stereotypes within the fashion industry. Information and tickets are available here.
News from Victoria
****LAST CHANCE**** Melbourne Networking Lunch, Friday 17 June
Bookings close soon for our special networking lunch with guest speaker, the Right Hon. Sally Capp, Lord Mayor of Melbourne. She started work at age 14 at an ice cream shop. She has run businesses, big and small, and has a series of 'firsts' to her name. Find out how she plans to lead Melbourne's economic recovery, and the opportunities from small business. Join the Lord Mayor and WNA CEO Cheryl Gray, who will present major procurement opportunities for women-owned businesses through our partnership with WEConnect International.
Guests will also hear from Mind Your Fashion Founder Jude Kingston, and Vinnies CEO Sleepout Ambassador Marion Mays. Read more about Marion's campaign to end homelessness and Melbourne, and how you can help. Tickets to this very special networking lunch are just $95 for WNA Members and $110 for non-members. Includes two-course lunch and beverages. For catering purposes, bookings for the 17 June lunch are required by 9 June, so book your ticket today
Find out more about the venue, the breathtaking Hellenic Museum, here. Museum tours are available.
Speaking up for homeless women
WNA Member and Official Ambassador for Vinnies CEO Sleepout, Marion Mays, is speaking up for women living on our streets who can't speak up themselves and need our help. Did you know:
The number of older homeless females has increased by 31% (ABS 2016)
62% of people who seek help from homelessness services are women. (Australian Institute for Health and Welfare (AIHW)
The top 2 reasons for people seeking assistance were: (AIHW)

family and domestic violence (42%)
housing affordability (28%).
News from New South Wales
Women-led startups will get access to a $10 million venture capital fund as part of the New South Wales government's 2022-23 budget, to be released later this month.

Named after fashion titan Carla Zampatti, the fund will target early-stage startups led by women. The fund will also collaborate with the private sector to expand the amount of money available.
The fund will open for applications by the end of 2023 after its design is finalised in consultation with industry. Around one third of small business owners in New South Wales are women. Read more here.
News from Tasmania
****HOBART EVENT REMINDER**** Networking Luncheon at the Royal Yacht Club - Friday 17 June
Join WNA Ambassador, Alison Rogers, for a networking luncheon at the Royal Yacht Club of Tasmania.
We are looking forward to welcoming our guest speaker Adrianne Fleming OAM, Co-founder of Tristar Aviation. Open to WNA members and non-members, this event is a great opportunity to meet like-minded women in business and share your challenges, triumphs and more!
Adrianne shared parts of her story in the Humble Leaders book (Chapter 3) last year, and we're looking forward to hearing what's been happening since. Tickets include a main meal and canapes on arrival.
Book here today!

News from South Australia
The SA Premier's Council for Women (PCW) is conducting a survey of existing and emerging women in business to understand where to focus its advocacy for South Australian women business owners, or those aspiring to own businesses. The survey closes on Monday 20 June 2022. Responses are anonymous. Read more and link to the survey here.
News from Western Australia

Need some help understanding your business financials? The WA Small Business Development Corporation is holding foundational online workshops on Understanding Business Financials this month. More information and bookings can be made here. Cost is $20.

News from the Northern Territory
The NT Rural Women's Award celebrates the inclusive and courageous leadership of women involved in Australia's rural and emerging industries, businesses and communities. The award provides a platform to inspire and support Australian women to use and develop their skills to benefit their industries and communities. Applications for the 2023 NT Rural Women's Award open on Wednesday 7 September 2022. Find out how to prepare your award submission here.
News from the ACT
Monday 27 June is Micro, Small and Medium Sized Enterprises Day (MSME Day). The Australian Small Business and Family Enterprise Ombudsman (ASBFEO) is encouraging all Australians to celebrate small and family businesses and their important contribution to our economy, society and local communities. Check out MSME Day resources here.
Recommended reads for June

Our WNA Business Book Club titles for June are:
(titles link to place of purchase)

Would you like to be a WNA book reviewer? Email the WNA Team and we will send you a reviewer's book to keep and review.

Mothering Sunday: The events of Graham Swift's novel take place over the course of one day—the holiday Mothering Sunday. Maid Jane Fairchild (Odessa Young) has the day off, as her employers, Mr & Mrs Niven (Colin Firth and Olivia Colman) are attending an event to celebrate the engagement of their neighbours' son, Paul (Josh O'Connor). Jane is an orphan, so has no mother to spend the day with—but she does have Paul, with whom she's been having a years-long secret affair. The story unfolds as they spend their final day together as lovers. Based on the novel by Graham Swift. Watch the trailer here.
MOVIE TICKET GIVEAWAY
WNA Members can take advantage of a limited number of free double-pass movie tickets. Simply email WNA with which movie you'd like to see.
Operation Mincemeat: Set in 1943, the film follows two brilliant intelligence officers, Ewen Montagu (Colin Firth) and Charles Cholmondeley (Matthew Macfadyen) who conceived a plan that was dubbed Operation Mincemeat. They would trick the Nazis into thinking that Allied forces were planning to attack southern Europe by way of Greece rather than Sicily. Their plan was to get a corpse, equip it with misleading papers, then drop it off the coast of Spain where Nazi spies would take the bait. Based on a true story. Watch the trailer here.

How to Please a Woman:
Gina is not feeling fabulous. She has lost her job and feels stuck and frustrated in a passionless marriage. She has always lived life on the sidelines – that is, until she is met with the groundbreaking business opportunity of converting a team of well- built moving guys into well-built housecleaners. Initially the response from her ocean-swimming community is immediate, and her all-male cleaning staff an instant hit. Finally, she is the boss she has always wanted to be.
How to Please a Woman is a precarious, often hilarious and revealing journey into the vulnerable world of what women really want and how hard it can be to get it right. View the trailer here.
What would you like to read about in The Friday File?
We love your feedback. Tell us what you'd like to read in future editions of The Friday File, or send us your news by emailing admin@womensnetwork.com.au

Connect with Women's Network Australia
Copyright © 2022 Women's Network Australia, All rights reserved.
You are receiving this because you are either a financial member of Women's Network Australia or you have requested/subscribed to receive electronic communication from us.
Women's Network Australia
PO Box 4453 | GUMDALE QLD 4154 Australia
Add us to your address book

You can Unsubscribe or Update your preferences