Dear Guest,
Mothers are the original mentors. This Sunday is a day to celebrate mothers, motherhood and those close to us who have played an important, influencing role on our lives.
We know that having a mentor positively impacts women on their career journeys. Mentoring expert Dr Lesley Petersen describes the essential qualities of an effective mentor – their interpersonal qualities, skills, experience, knowledge – that align with who you are, your values, your communication style.
Mentoring is a two-way street. Writing for WNA in her two-part blog, Dr Petersen listed the attributes required from both yourself and your mentor in order to have effective career conversations. These include:
· Care
· Respect
· Integrity
· Intention
· Valuing what each of you bring to the relationship
· Effective listening
· Skilful questioning
· Knowledge of decision-making and problem-solving processes
· Feedback skills that are strengths-based
· A willingness to share opinions and perspectives.
How often do you draw on these skills in your interactions – personal or professional – with family, friends or colleagues? Women's Network Australia is fortunate to have many expert and valuable mentors in our midst. Many are listed in our Business Consulting & Coaching category in the Member Directory (available to Members only). And there are many others, across all sectors, who are willing to share their experiences and provide guidance through the WNA network. If you are seeking a supportive mentor, please let us know.
This month, WNA will focus on the theme of "Specialise". There are advantages and disadvantages of being a 'specialist'. Specialists have gained knowledge in a particular subject area or skill and may be considered 'thought leaders'. Being a specialist increases their chances of a better salary or higher charge-out rates and, as time goes on, you can become widely-recognised as a leader in your field, opening up new opportunities such as professional speaking, book writing and more.
In a fast-changing work environment however, transferable skills are becoming increasingly important and highly valued. Generalists tend to have more transferable skills. If you know how to manage employees, for example, you will be able to do this in different businesses, regardless of the industry sector. Specialist or generalist… which one are you?
Wishing all the Mothers and Mentors a wonderful weekend!
With courage and hope,

Cheryl Gray
CEO
ATO warning: do not engage in GST fraud
The Australian Taxation Office (ATO) has identified and is taking strong action against fraudsters.
The latest fraud involves individuals inventing fake businesses and Australian business number (ABN) applications, many in their own names, then submitting fictitious Business Activity Statements in an attempt to gain a false GST refund.
The ATO has issued some strict reminders:
■ The ATO does not offer loans. If you see someone advertising a way to get a loan from the ATO, it's a rort.
■ The ATO does not administer government disaster payments.
■ If you are not in business, you do not need an ABN.
■ You should never share your myGov login details. You may be giving your identity directly to criminals who can use it to impersonate you, or sell it to other criminals.
■ Backdating when a fake business is set up to seek a refund will flag you as high risk and the ATO will take action.
■ False declarations may impact eligibility for other government payments.
■ The ATO has the data matching ability to detect these patterns and stop the fraud.
■ Stealing from the ATO is not a victimless crime, you are stealing from people in need of government support and people using public services such as schools and hospitals.
■ The ATO shares information with a range of government partners when responding to fraud, including law enforcement agencies.
■ If you engage in tax fraud, you will be caught.
If you have concerns about tax fraud or scams, call the ATO's dedicated hotline on 1300 130 017.
WNA and WEConnect International collaboration

WNA is the Australian representative for WEConnect International,

a

global network that connects women-owned businesses to qualified buyers

around the world. You can join a hands-on, live session with WEConnect's support expert Melanie Oliver, who will step you through how to register your business on the global platform FOR FREE!
Registering with WEConnect International allows you to connect with more than 12,000+ women-owned businesses across the globe. And your business profile can be accessed through the WECommunity platform by member buyers, certified Women's Business Enterprises and other WEConnect International-registered businesses and organisations.
If you'd like to take advantage of this step-by-step walkthrough on how to register your business, email the WNA Team and we will forward a Zoom link for one of the following sessions:
Wednesday 11 May, 4pm-5pm AEST

Wednesday 25 May, 4pm-5pm AEST (Q&A on WEConnect certification).
If you have a product to sell, you need to listen to this! Join our conversation on Monday May 16 with National Retail Association CEO Dominique Lamb who will discuss her recent trip to Rome for the World Retail Congress. Learn about the rise of the conscious consumer, why customers place more trust in retailers as leaders, and the latest best practice insights from global retailers. Click here to register for free.
News from Queensland

****GRANTS ALERT****
On your mark... get set... stop!!!! A major technical issue with the SmartyGrants system left thousands of Queensland businesses at the starting gates this week when the much-anticipated Business Basics grants round crashed. A new opening date is yet to be announced - so that means if you weren't ready for Wednesday's opening, you're back in the race! These grants offer $5,000 to eligible new or emerging businesses to improve their operations, such as upgrading websites, improving skills or adopting best practice. Program guidelines and other information can be found on the Business Queensland website.
OTHER QUEENSLAND EVENTS - Supporting our Charity of Choice and Charity Partners
Conversations with Carers

The Carers Foundation Australia will hold the first in its "Who Cares? Conversations" series at the Eatons Hill Hotel on Wednesday 11 May, 9:30am-11:30am. The inaugural speaker is Geraldine (Geri) Munnich, who is familiar to many of the WNA Brisbane members. Event information and bookings here.
And don't forget the "Who Cares? Luncheon" on Friday 17 June - a major fundraising event for The Carers Foundation Australia featuring great entertainment and much more. Event information and bookings here.
Mind Your Fashion at the Races
Racegoers have yet another reason to attend the Brisbane Racing Club's Stradbroke Season High Tea on Friday 13 May, 10:30am-1:30pm. A portion of ticket sales and proceeds from raffles will go to Mind Your Fashion, raising awareness of mental health in fashion and creative industries. Event information and bookings here.
Dancing CEOs - Limited tickets still available
WNA Member Jo Sainsbury has been polishing her pink steel capped boots in readiness for her debut at Dancing CEOs on 21 May, at Brisbane City Hall. Check out her groovy moves here.
Our WNA table at the Dancing CEOs event is fully booked, however Mezzanine tickets are available here at a cost of $150 for a five-hour canape and beverage package. Mezzanine guests cheering for Jo will be seated together – so you can raise the roof and help Jo win the People's Choice Award on the evening!
News from Victoria
****EVENT ALERT**** Join the Lord Mayor of Melbourne at this special WNA event
Around 35% of Australian businesses are owned by women. The growth opportunities are being taken up – slowly - which is why Women's Network Australia has joined the call for all levels of government to engage women business owners and look to them to provide essential products and services.

As part of this discussion, WNA is pleased to host the Lord Mayor of Melbourne, Sally Capp, as we explore opportunities for business in Victoria. Sally Capp was re-elected Lord Mayor of Melbourne in October 2020 after having previously been elected in May 2018 and is the first woman to be directly elected as Lord Mayor. Click the image below to book your ticket, or find out more about this upcoming event at the Hellenic Museum by clicking here.
News from New South Wales
****EVENT ALERT****
Women and the law. A special luncheon invitation, Sydney, 19 May
Join WNA Member, Domestic Violence victim advocate and Family Law Specialist, Kelli Martin, for lunch at one of Sydney's most popular venues on Thursday 19 May. Kelli is the Founder and Managing Partner of KLM Solicitors - a firm that has grown from two staff and a pile of cases, to four offices and a team of close to 30 professionals, in just seven years. Along the way, Kelli has managed the personal impact of vicarious trauma and PTSD arising from her work dealing with victims of domestic violence, is raising two school-aged daughters and mentoring young women entering the legal profession.
She will be in Sydney to attend the Australasian Law Awards, where she is in the running for Law Firm Leader of the Year (<200 employees), and is keen to meet and speak with other women in business, to connect, share stories and provide support. You can join Kelli and our WNA Ambassador for NSW, Leanne Elich, for this special lunch. Information and bookings available here. Strictly limited numbers.
Meet women in construction at Sydney Build on 2 June
WNA Members are invited to attend the Women in Construction networking session as part of Sydney Build on Thursday 2 June, 9:30am-11am. This networking event is sponsored by Blackwoods, with Partner Women's Network Australia.
Where: Networking HUB & Future of Construction Stage
When: 9:30 - 11:00am - networking at the HUB, Sydney International Convention Centre.
Register for free tickets (which include entry to two-day Sydney Build event) here.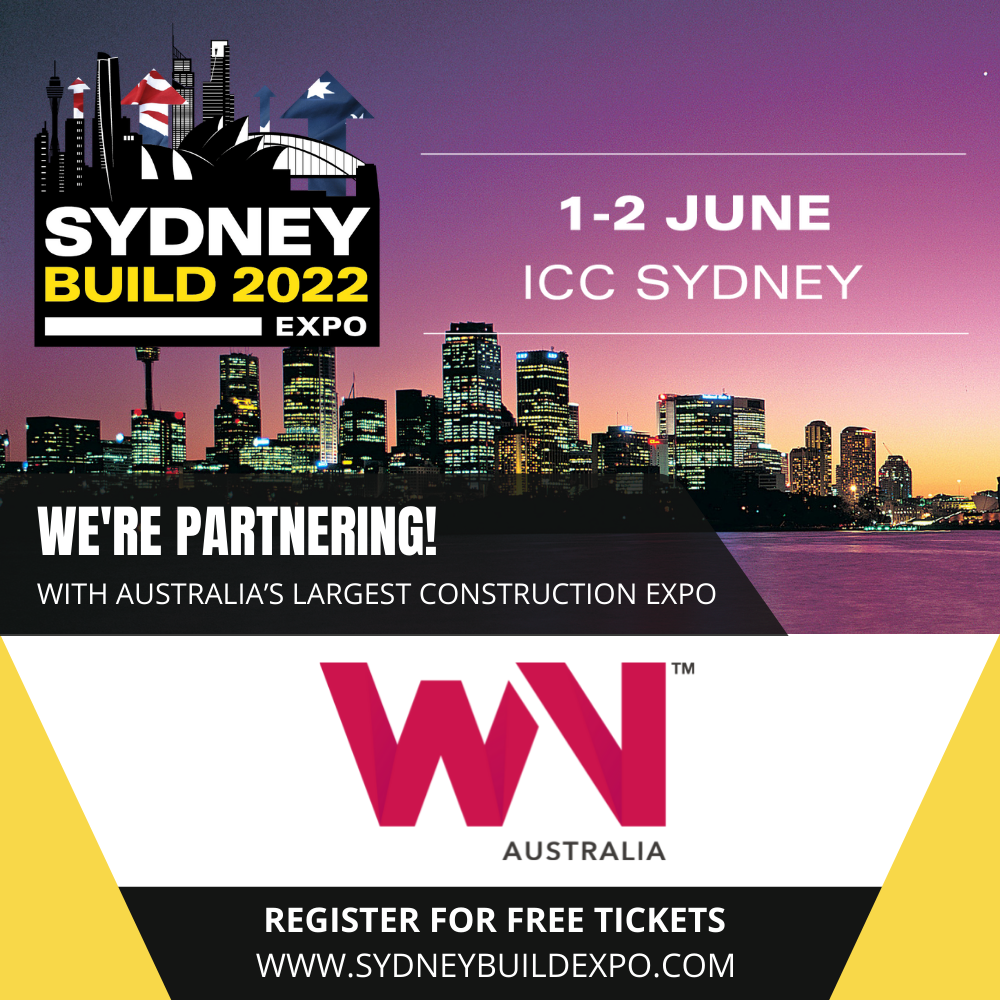 News from Tasmania

***EVENT ALERT*** Save the date
Our next WNA Hobart event will be held on Friday 20 May, Noon-2pm.
Venue: Hobart CBD venue to be confirmed
Speaker: Sophie Underwood, Artist / Advocate / Activist
Don't forget to check the WNA Hobart Facebook group for updates and shared news from our Tasssie members.
News from South Australia
Regions are the powerhouse of Australia. The Regional Australia Institute (RAI) will present its next Regions Rising virtual event on Tuesday 10 May. It will showcase the wonderful achievements and successes of South Australian businesses. The RAI will also be launching its next body of research, Building the Good Life: Foundations of regional housing. The report aims to help policymakers, industry and regional leaders established place-based initiatives rather than a one-size-fits-all approach to address the current housing pressures being felt in many regions. Find out more and register here.
***HELP WANTED***
We are still looking for hosts for networking events in Adelaide. Interested? Email the WNA team for further details.
News from Western Australia

The Western Australian government has opened nominations for the 2022 edition of its Innovator of the Year Awards with a prize pool of $140,000 on offer. The prize pool is split between six awards, with the overall winner receiving $70,000. The remaining categories are for Emerging Innovation, Growth, Energy, Great for the State, and Wellbeing. Winners will be selected based on the ability of the innovation to meet a market need in Western Australia, have commercial potential, and the level of impact the state government funding would have on the company. Applicants must also demonstrate they have the capability and capacity to support their innovation. Applications for the awards close on 31 May and must comply with the guidelines.

***WA EVENT ALERT - COFFEE & CONVERSATIONS, THURSDAY 26 MAY***
Join experienced Board Director, author and former senior public servant of Western Australia and Queensland, Lesley van Schoubroeck for Coffee and Conversations on Thursday 26 May from 9:30am about leadership, governance and wine! Having undertaken strategic policy reform and planning across governments, and in the mental health sector, Lesley reflects on how to create change and deliver better outcomes for communities. As WNA returns to live events in Perth, join Lesley and our Ambassador Marianne Rom for a buy-your-own coffee session, and rekindle your network. Register your attendance today and buy-your-own coffee on the day!
News from the Northern Territory
For information on Northern Territory Government grants and financial incentives for business owners, add this link to your bookmarks.

News from the ACT
***EVENT ALERT***
We will be holding a networking coffee morning in Canberra in May. Stay tuned for details, or email us to confirm your interest in attending.
Recommended reads for May
Our WNA Business Book Club titles for May are:
Would you like to be a guest book reviewer? Email the WNA Team and we will send you a reviewer's book to keep and review. We will be sharing reviews and author interviews through this month.
What would you like to read about in The Friday File?
We love your feedback. Tell us what you'd like to read about in future editions of The Friday File by emailing us at admin@womensnetwork.com.au

Connect with Women's Network Australia
Copyright © 2022 Women's Network Australia, All rights reserved.
You are receiving this because you are either a financial member of Women's Network Australia or you have requested/subscribed to receive electronic communication from us.
Women's Network Australia
PO Box 4453 | GUMDALE QLD 4154 Australia
Add us to your address book

You can Unsubscribe or Update your preferences