Dear Guest,
Friday is here again! As always, I am excited to send positive energy your way. Whether it's in person at our local coffee shop (Yes!), on the phone, via email or in our weekly Friday afternoon S@S sessions, I am always keen to hear from you all, how you are going and to even enjoy a puzzle or two!
If you are like me and trying to stay across all the COVID-19 updates, I have found it's vital to stick to one or two mediums that are reliable and consistent. With the roll-out of easing restrictions across Australia, the information can be quite confusing and diverse at times. While we do have to stay in the present and ensure our businesses survive during these challenging times, it's important to look forward to the future. Helping Australia and our fellow Australians to recover both economically, physically and personally is crucial.
With this in mind, I thought I'd share some insights from one of this week's Australian Institute of Company Directors' (AICD) webinars. It highlighted three possible scenarios that may present for the remainder of 2020.
Base scenario – prolonged disruption for 6-9 months

Upside scenario – regional recovery and uneven global rebound

Downside scenario – ongoing pandemic with 2nd and 3rd waves of the virus with further lockdowns.
These aren't meant to shock you but rather I wanted to share three strong messages that I believe are crucial for all of us as small or large business owners, family members, friends or mentors.
- Make sure you dedicate resources to recovery in a planned and purposeful manner

- use resources at your disposable including the WNA website
- Use the WNA network if you are experiencing decision fatigue, or increasing stress, delegate unimportant tasks if you can and create and innovate for the long haul.
I have been so rapt with how everyone is continuing to support and encourage each other through WNA! If you are keen to source reliable business information, sites like AICD have some great information which may help all of us moving forward through this time.
I was delighted to hear that WNA member and Co-Owner and CEO of Brisbane-based AIS Water, Elena Gosse has bucked the COVID-19 trend with a 30% increase in sales in her business which designs, produces and supplies

inline chlorine generation technology

. Well done and keep up the great work!
It was wonderful to have Nici Bickley of Autom8 Now present WNA Virtual Episode Four on Tuesday 19 May - "Tech Tips in Tough Times". Her 4 P's - Pause, Purge, Plan and Promote were purposeful and highlighted why it's important our technology works for us. Check out the WNA Virtual section to read more from this great session!
As you know, S@S – that's Socialise at Sunset – is our virtual meet-up each Friday. It's FREE for current financial WNA members, and a fantastic way to connect nationally. And as it's May Member Month, if you would like to invite a friend or colleague to see what we are about, please let me know, and we can include them on the next one!
Be present for our special Member Month prize draw to hear who will receive a beautiful gift pack delivered to their door.
As always, I am here to help, so please don't hesitate to reach out.
Wishing you a wonderful day!
Oh to be a tech whizz! I really enjoyed hearing from Nici Bickley of Autom8 Now on Tuesday. It was a session packed full of practical tips on what we can all be doing now to utilise our technology to improve our business efficiencies and save money. Nici reminded us that technology is there to work for us! Her presentation was content rich, with plenty of great takeaway action items.
In particular, her reminder about claiming your Google MyBusiness page and using it to your advantage will be helpful for many.
Nici has very kindly put together an incredible offer exclusively for WNA members. You can find out more here. Once again, Nici highlighted the benefits to your business of submitting blogs to WNA that include two to three backlinks to your website. If you'd like more information about submitting a blog to the WNA website, please don't hesitate to contact me. You can email your blog to me in a word document, with an accompanying image, and I will post it for you.
WNA Virtual Episode Five is coming up on Wednesday 3 June and you won't want to miss it! Jillian Bullock, the LinkedIn Ninja Down Under, will be joining us to talk about how LinkedIn can be your secret weapon in business.

LinkedIn can be confusing and difficult to use as an effective and profitable business tool as so much of it is hidden. It is a powerful platform and is the most direct Social Media tool today on which to showcase your expertise within your niche. Without a great LinkedIn profile 'selling' on your behalf, just like a brochure or website, you are definitely missing out on potential business. Book your ticket now!
The business impact of COVID-19 is profound. The next six months are critical to lock in the future position of your business. For more information about "Comeback Bigger and Stronger in 2020", please contact Analaura Luna via email.
I AM VERY GRATEFUL FOR THE SUPPORT OF OUR TALENTED AND PERSISTENT COMMUNITY!
We've embraced new members, got out to support our local businesses and network friends, joined in a terrific virtual webinar with Nici Bickley, and heard some uplifting business success stories.
Jody Williams, based in Perth, is not your normal Insurance Broker. It's always been her desire to be different.
Jody started her career in the early 2000's in Claims, learning very quickly that if the policy isn't written correctly in the first place, she couldn't pay out a claim. That was frustrating.
Her answer was to move into Insurance Brokering and in 2008 she formed Oracle Group Insurance Brokers with her then business partner.

Jody has continued to help hundreds of business clients with their insurance policies ever since. Her goal is to break the mould of insurance broking and provide friendly and effective advice.

Find out more about Jody on the WNA website.
Have you been using your May Member Month Activities Calendar?

In case you missed it, this special WNA calendar includes prompts and details of upcoming May events, opportunities for all WNA members to increase awareness of your business and in some cases even win a prize!
Download the May Member Month Activities Calendar by clicking the button below.
During Member Month, I will be rewarding members who are getting involved and participating via social media, virtual events or other activities.
Congratulations to Marney Perna who won the Friday May 15 prize, and to Liza Goodall who received a prize for the most correct answers to our brain teaser! There's another brain teaser in the Facebook Group this week, so jot down your answers ready for Friday!
Remember, the more you are engaging with WNA and our members, the more chances you have of winning a beautiful prize pack delivered right to your door!
I will be announcing prize winners each week during our free Socialise at Sunset Zoom, so if you haven't reserved your spot as yet, please click here to register.
I wanted to continue to highlight the great partnership between WNA and the
I Empower Through My Power
campaign, which has continued to create a "virtuous circle" where women are redirecting savings on household bills to help others in need and to escape domestic violence.
This week we heard from WNA Member Melissa Donaldson who took up a free consultation with I Empower Through My Power and tells us she will save a mammoth $800 on her business and more than $250 on her household gas and electricity bills. Naturally, she's very happy!
I Empower Through My Power provides you with a free energy bill comparison. For every customer who switches to a better deal, $15 will be donated to a charity dedicated to helping women escape domestic violence. This is a great way to save and help women in need.
Call 1300 271 814 or visit
www.iempowerthroughmypower.com.au
to find out more and register for a free consultation. If you are in need of any support in relation to domestic and family violence,
please click here
for resources available state by state.
We would love to hear from you if you have any great tips or recommendations to add to this section!
ACT
If you have downloaded your WNA Member Month Activities Calendar, you will notice some items you can action this week to take advantage of your WNA membership. These include
Register for this afternoon's "Socialise at Sunset" virtual networking, from 4:30pm. You could win one of the final WNA Prize Packs, only available during Member Month.

Make sure you have joined our WNA Facebook Group and participate in "Monday Matchmakers" and Tuesday's "Time to Shine" sessions.

Complete Nici Bickley's tip and claim your Google MyBusiness page

Find and follow three WNA member businesses on social media

Recommend WNA to three of your women business contacts (special prize for referrals!)

Book in for your complimentary coaching session with WNA's guest coach

Book your ticket for WNA Virtual Episode Five with Jillian Bullock, the LinkedIn Ninja Down Under, to be held on Wednesday 3 June.
READ, READ, READ!
Dr Tererai Trent's journey from a small Zimbabwe village to becoming one of the world's most recognisable voices in women's empowerment and education after overcoming domestic violence, managing life as a single mother, and moving to America to first finish her high school education and progress eventually to her Doctorate, is one of rising over adversity and shaping her dreams.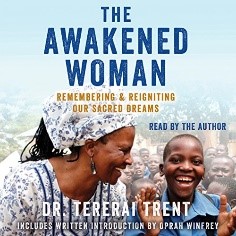 You can also watch and learn from Dr Trent on her YouTube interview with multipassionate entrepreneur Marie Forleo here (about 35 minutes).
DIGITAL INTERACTION FROM YOUR COUCH!
This week we celebrated International Museum Day on May 18 which raises awareness about museums. This year's theme is "Museums for Equality: Diversity and Inclusion." If you miss a regular outing to a museum, some of the virtual museums might be a good option for you! Check out the Louvre Museums' virtual tours.

FOR THE PODCAST LISTENERS!
The Women in Tech Podcast, hosted by Espree Devora, features inspiring women working in technology. Guests include Engineers, Female Founders, Investors, UX and UI Designers, Journalists and more, all sharing their story about how they got to where they are today. Use this link to access via Apple Podcasts or search for it on your chosen podcast app.
BOOST YOUR HEALTHY!
If you need a quick break during your day, why not try some of these easy exercises from the Heart Foundation that can be done from the comfort of your work office, garden or lounge room.

Do you know someone who would benefit from being part of WNA?
Feel free to forward our Member Benefits link so they can join too!
You are receiving this because you are either a financial Member of Women's Network Australia or you have requested/subscribed to receive electronic communication from us.
Women's Network Australia
PO Box 5620 | MANLY QLD 4179